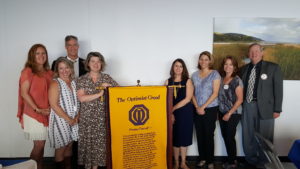 Our Excellence in Education program is to recognize and reward educators for their contribution to education in our local schools.
We annually solicit the principal from the six (6) local school for candidate nominations based upon exemplary dedication to serving youth and passion for assisting youth to reach their full potential.
The 2017 Excellence in Education recipients were: Wendy Berman (Webster), Maribeth Majewski (Point Dume Marine Science), Katy Lapajne (Malibu Middle School), Laura Retts (Our Lady of Malibu), Nicole Fisher (Juan Cabrillo) & Carla Bowman-Smith (Malibu High School).
We honor the recipient and their families at one of our regular breakfast meetings.  Each recipient receives an award and a gift certificate for dinner at Geoffrey's, a local restaurant and a long time sponsor of this program.